Mattresses for better sleep.
For you. For life.
We have reinvented the mattress – a worthwhile investment.
Relaxing, recovering, energizing: with our 100% adjustable mattresses you can finally tap into the full potential of sleep.
Watch Video
Modular Mattresses:
The Future of Perfect Sleep
SEVEN SUNDAYS mattresses consist of a modular multi-layer system that you will enjoy all your life.
Our innovative layer system allows you to adjust your mattress to your sleeping needs over and over again. Our quality standards start where our competitors end: The highest quality materials, processed by hand, guarantee you an unprecedented durability. If necessary, you can easily replace each individual mattress component instead of having to buy a new mattress. And above all, we put an end to the myth of "one-fits-all mattresses". There is no such thing. We free you from the agony of choice: hard mattress or soft mattress, cold foam or latex – our modular mattresses combines it all in one product. So you are always right. So it's finally you who determines the quality of your sleep – not your mattress.
How do You Want
Your Mattress to Feel Like?
Whatever your idea of perfect sleep is, your new mattress will offer you an endless variety of laying sensations.
SEVEN SUNDAYS mattresses stand for highest sleeping comfort. What no other mattress takes into account is the fact that everyone defines sleeping comfort differently. Until now, your only choice was to rely on advertising promises about the quality or features of a mattress or to test the mattress and return it with quite a lot of effort. With our modular mattresses you are finally guaranteed to create the perfect lying feeling for you. The mattresses consist of several individual layers – not glued to each other – which you can arrange as you wish to create your favourite mattress. So there is no longer a too hard or too soft mattress. You can simply experiment until you found the mattress configuration you really love, or simply use one of our most popular laying sensations:
You often suffer from back problems or a sore shoulder or neck area? Then your mattress should support and stimulate your back health. The effective back-healthy lying sensation of our Stretch-Layer with its unique lamellar structure creates a gentle stretching of your spine for active relief of complaints. The further up this layer is your mattress configuration, the greater the regeneration effect for your back. If you are looking for a mattress against back pain, you will love this layer.
You feel rusty after waking up and always have to stretch? Does your body need time to get going? Then you will love the revitalizing lying sensation. You need a mattress that encourages your body to move more at night. Our Latex-Layer made of high-quality natural rubber with a particularly elastic rebound. It bounces you very gently with every movement and thus promotes natural and revitalizing movements during sleep.
You love it soft and cuddly and want to have the feeling of being carried gently by your mattress? Then you need a mattress that gives you a lying sensation better than the best box spring bed. On our Softness-Layer you sleep on clouds. The layer of the softest down and specially developed foam beads is cuddly soft and always stays puffy and comfortably fluffy thanks to the foam content.
You move around a lot at night and sometimes even wake up due to your active sleeping behaviour? In consequence you do not feel well rested despite sleeping? Then you need a lying sensation from a mattress that reduces your nightly activity. Our Memory-Layer reacts slightly delayed to changes in position. It virtually holds you firmly and gently slows down your body. The viscoelastic memory foam adapts exactly to your body shape. So you can rest in incredible comfort.
You usually sleep on your side and never know where to put your arms? Do you sometimes wake up tense or even numb? A mattress that has your shoulders and hips sink in deeper than the rest of your contours will help you. Our 5-Zones-Layer of three highly elastic cold foams provides exactly that. The balancing feeling of lying on the 5-Zones-Layer reduces tension, promotes blood circulation and keeps you comfortable in your favourite position.
You just like to sleep on very hard mattresses or do you wish to have a particularly firm mattress due to your high body weight? Due to a particular arrangement of our layers you can create a very hard lying sensation. To achieve an even harder lying sensation or an increased firmness in case you are overweight, we can increase the firmness (not to be confused with density) of all of our Layers in custom-made layers up on request.
Our Mattress Layers:
Mattress Design in Perfection
The freely arrangeable layers of our intelligent mattress system give you an unimagined flexibility when it comes to creating the mattress truly exciting you.
Developed in intensive cooperation with sleep experts, physiotherapists and orthopaedic Doctors, our six different layers provide you with the highest quality materials that have been proven to optimize sleep quality. Every layer is designed to take full advantage of each material and helps you unlock a specific effect depending on its position inside the mattress. Depending on the model, you get two to three layers inside the mattress. You can choose from the following layers:
5-Zonen-Schicht
Supports the natural spinal curves with three combined cold foams
Head and neck vertebrae zone (yellow): solid cold foam supporting the head
Shoulder zone (white): very soft cold foam to have the shoulder area sink in
Thoracic vertebral zone (yellow): solid cold foam for gentle mobilization
Pelvic zone (brown): medium firm cold foam to have the hip area sink in
Leg zone (yellow): firm cold foam to have the calves and heels slightly sink in
Memory-Schicht
Orthopaedic benefits, e.g. for disc or spinal complaints or circulatory disorders
Reacts yieldingly and relieves especially pressure-sensitive body parts
High quality memory foam with specific composition
Memory effect for typical cuddly lying characteristics
Highest air circulation through vertical punctuation of the foam
Suitable for allergy sufferers: Mite-resistant due to small-pored cell structure
Stretch-Schicht
Stimulates disc regeneration overnight and promotes back health
Lamella structure gently pulls the vertebrae apart while laying
Promotes the nutrient supply of the sensitive and stressed intervertebral discs
Developed with experienced orthopaedists and physiotherapists
Derived from the "Dorn Therapy" for a gentle repositioning of the vertebra
Certified as Ergonomic Product by IGR (Back Health Institute)
Latex-Schicht
Stimuliert die Bandscheiben-Regeneration über Nacht und fördert Rückengesundheit
Gegenläufige Lamellenstruktur zieht Wirbel beim Aufliegen sanft auseinander
Fördert die Nährstoffversorgung der sensiblen und beanspruchten Bandscheiben
Entwickelt mit erfahrenen Orthopäden und Physiotherapeuten
Abgeleitet aus der Dorn-Therapie für eine sanfte Repositionierung der Wirbel
Als ergonomisches Produkt zertifiziert vom IGR
Softness-Schicht
Always located at the top inside the mattress, providing a particularly soft and comfortable laying sensation
Special feature: 40% duck down feathers (no live plucking) combined with 60% cold foam beads
Foam beads provide high support, fluffy volume and prevents flattening of the feathers
Keeps the sleeping temperature warm and pleasantly constant
Ideal moisture management through hygroscopic properties of down feathers
Pleasantly warming, very popular as a seasonal layer for Autumn and Winter
Basis-Schicht
Bottom layer of the SEVEN SUNDAYS Pure Mattress
Made from Ergolattex®, a special foam made from natural latex and high-tech polymers
Ergonomic base with a particularly even pressure distribution
Comfortable lying characteristics for best sleeping comfort
Neutral laying sensation properties to allow the upper layer to show full advantage
Optimal air and moisture regulation due to open cell structure
Just Like New:
You Can Easily Adjust Your Mattress
Would you like to lie a little softer or a little harder? Not a problem with your SEVEN SUNDAYS mattress.
You don't have to decide before you buy. Or fall asleep with the same feeling after the purchase of your new mattress. If you like, you can reconfigure your mattress every day, according to your current situation. You feel sore after a good workout? The Stretch-Layer ensures active regeneration of your back during sleep. On the weekends, you can make you bed really comfy – by choosing the memory layer. The adjustment is done in a few easy steps. Perfect for and everyday use, if you like. Watch how it works in action in the following video:
Mattress Comparison:
The Best Mattress for Your Needs
We offer three mattresses with variable sleeping systems of two to three layers.
Discover the advantages, features and differences of the models in our mattress comparison and find the mattress that is best for you. Even the entry-level Pure model guarantees you an incomparable level of sleep.
Pure Mattress
Mattress with 2-layer system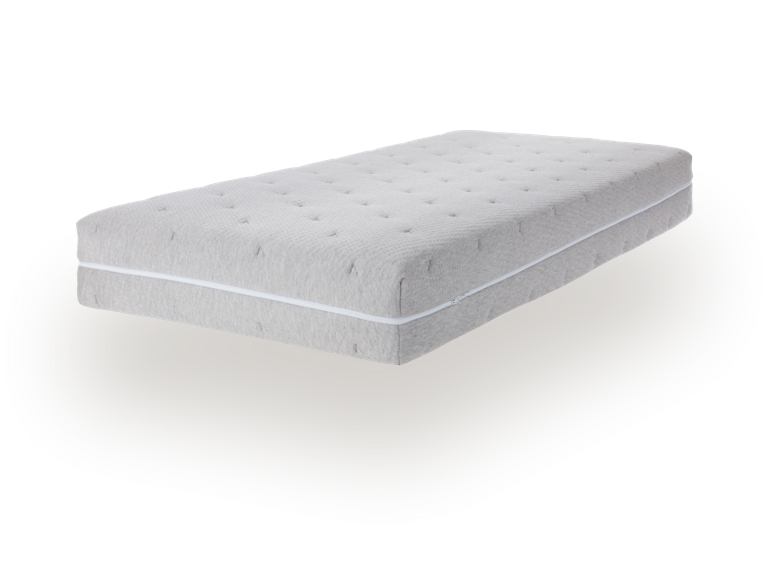 Height: 21 cm
The Pure is simple and straightforward, yet, carries the DNA of all SEVEN SUNDAYS sleeping systems: modularity in its purest form. The Base-Layer in Combination with a layer of choice also makes our 2-layer system versatile. The mattress is your inexpensive entry into the world of customized sleeping.
Schichten:
Base-Layer
5-Zones-Layer or Memory Layer
With the Pure model, you choose an additional start layer in addition to the base layer.
You can upgrade to the Classic model by replaying the Basis-Layer for two new Layers at any time.
Starting at 999,00€
Or €16,65 per month
Classic Mattress
Mattress with 3-layer-System
Height: 21 cm
The Classic makes no compromises. By choosing from the full range of regeneration and comfort layers, your new mattress will offer you undreamt-of lying sensations at a generous height of 21 centimetres.
Schichten:
Stretch-Layer
5-Zones-Layer
Memory-Layer, Latex-Layer or Softness-Layer
With the Classic model you choose any three Layers. For best ergonomics, we recommend to always configure the Stretch-Layer and the 5-Zones-Layer.
Starting at 1599,00€
Or €26,65 per month
Supreme Mattress
Frame-Mattress with 3-layer-System
Height: 25 cm
The Supreme is our top model – the highest of highs. The mattress plays out its almost endless modularity with artistic ease and therefore stands for perfect sleep like no other mattress. Its frame ensures dimensional stability and perfect handling when changing layers.
Layers:
Stretch-Layer
5-Zonen-Layer
Memory-Layer, Latex Layer or Softness Layer
With the Classic model you choose any three Layers. For best ergonomics, we recommend to always configure the Stretch-Layer and the 5-Zones-Layer.
Additional Benefits:
Comfortable access thanks to a stable frame
Comfort height of 25 cm
Double Mattress: separately configurable on each side
No gaps between double mattresses
Starting at 1999,00€
Or €33,32 per month
Better Mattress = Better Sleep
We sleep almost a third of our lives. And this resting phase is much more to us than just an energy-saving mode.
During sleep, the body and mind recover. The metabolism regulates itself. The immune system is strengthened. Many detoxification and wound healing processes take place primarily during sleep. The endocrine system releases growth hormones. The brain processes the experiences of the day and anchors information in long-term memory. After a restful night you will have more energy, drive and focus the next morning. Sleep makes you beautiful, sleep makes you smart and is perhaps the best medicine. No wonder that healthy sleep features should be the most important criteria when choosing a mattress.
Your mattress has a decisive influence on your sleep quality.
The more comfortable you lie on your mattress, the better you feel in your bed. The better you can relax and recharge your batteries. And – especially important to many people of all ages – with the right mattress you can positively influence your back health. So that you don't wake up tense, yet fully relaxed. That's why we have redefined sleeping comfort with our mattresses – according to the latest scientific findings from sleep research and orthopaedics.
Orthopedic Mattresses:
What you Should Know
Orthopaedic mattresses are very much en vogue. They promise relief from back pain or tension as well as more lying comfort, for example in the case of a slipped disc.
However, labels such as "orthopaedic" or "medical mattress" are neither official nor standardized terms and do not provide precise information about the orthopaedic and health-promoting qualities in the case of pain, intervertebral disc problems or other complaints of the musculoskeletal system such as scoliosis or pelvic obliquity. Taking advantage of possible orthopedic benefits of a mattress uch as support, relief or pressure reduction is very much dependent on your personal demands. Not every mattress always helps everyone. With SEVEN SUNDAYS mattresses, however, you can always adjust the orthopaedic capacities to your current situation in the most effective way – depending on what your body needs at the time to lie comfortably and ergonomically correct.
Our Mattresses Combine the Best Features of Comfort Mattresses and Spine-Health Promoting Mattresses.
When laying on the Stretch-Layer, for example, exerts a slight traction on your spine. Your weight is being "redirected" by the Lamellar structure towards your head and feet: the resulting reduction in pressure causes stressed tissue to recover and promotes the absorption of nutrients and fluids. Overnight, this helps the intervertebral discs to soak themselves up like a sponge to return into their original shape. With the Memory-Layer and its excellent point elasticity, spine and joints can be relieved. A commonly used feature for pain reduction. Im short: will all innovative features, our mattresses live up to the designation "orthopaedic". They effectively cover all important health issues regarding mattresses:
Almost everyone has experienced back pain. The standard recommendation of many advisors is getting a hard or firm mattress to tigger mobilization of the spine. However, a mattress that is too hard encourages too much movement at night, which will exhaust. A mattress that is too soft, will have the spine unnaturally sag, which increases or even triggers the pain. You can configure our mattresses and the back health promoting features to noticeably suit your back.
The time while sleeping can be intensively leveraged to relieve the spine and support the health of the intervertebral discs. However, it can only be achieved with the right mattress, otherwise the intervertebral discs may be compressed. Our Stretch-Layer gently pulls the vertebrae apart and promotes their natural repositioning over night. Our mattresses are also advantageous to help regeneration following a slipped disc.
The shoulders and neck are the most sensitive areas of our body. Different sleep positions pose different pressures on each area. Side sleepers, for instance, unnaturally twist their shoulder, belly sleepers often times compress their neck. For shoulder and neck problems, we recommend using one of our orthopedic, height-adjustable neck pillow. In addition, the mattress enables the shoulders to deeply sink in, which you control with our 5-Zones-Layer.
Depending on the type of complaints around the hip and pelvic area, different layers of our mattresses can be helpful. In a lateral position, the hip joint has to bear a large part of the total body weight. For relief, the 5-Zones-Layer with a particularly soft hip zone allows the hip to sink in, which is also beneficial in the case of inflammatory pain in the hip. In the case of a pelvic obliquity, the Stretch-Layer can be advantageous.
Fasciae are often a contributor in both muscle pain and muscular tension. Fasciae consist of connective tissue wrapped around a muscle. They give stability and lose elasticity due to aging, incorrect strain or changes in metabolism. To support well functioning fascias, they need sufficient movement. Our Latex-Layer stimulates movement at night and thus causes a gentle fascial training during sleep. For pressure-sensitive muscle areas, the Memory-Layer can also be very comfortable.
Anyone who sleeps on an unsuitable mattress will certainly know the feeling of numb arms or limbs falling asleep. If the shoulders or pelvis are bedded too hard, this restricts the blood supply to the extremities. For any sleep position, the main capability of any mattress should be the ability to absorb the pressure at certain points of the body. In the case of circulatory disorders, our Memory-Layer is particularly useful to relieve sensitive areas of the body and support blood circulation.
Mattresses for Every Sleeping Position
Several mattress buying guides recommend choosing mattresses based on the preferred sleeping position.
Each sleeping position requires different functionalities from a mattress. However, when asked, many people are unable to define their actual sleeping position precisely. And even if they do: sleeping type classification does not take into account that everyone is unconsciously tossing and turning during sleep. These changes in position and constant rotations keep the spine and especially the intervertebral discs, fasciae, muscles, ligaments and tendons flexible. This can lead to you falsely considering yourself, for instance, a sidesleepter, yet feeling vatly uncomfortable on a special side sleeper mattress you have bought. SEVEN SUNDAYS mattresses solve this challenge, as you can easily adapt your lying sensation by configuring the layers differently.
About 2/3 of all people are side sleepers. With mattresses for side sleepers, point elasticity is of great importance – especially for the shoulders and hips. The shoulders must be able to sink much deeper into the mattress when lying on the side to avoid circulation to be cut off resulting in both tension and numbness in the arms and the upper back. The hips must be able to sink in slightly, yet not too far for the lower vertebrae to not bend unnaturally. Thanks to modularity, you can adjust the firmness of our mattresses to suit your body type. If you need a high level of comfort in the hip area, side sleepers like to opt for the 5-Zones-Layer as the top layer. The further up the Layer in your mattress, the more the shoulder and pelvis will sink in.
A typical requirement of mattresses for back sleepers is the sinking in of the heels and lower calves, as it relieves the knees and the cruciate ligaments in the supine position. The shoulder area, however, should not be too soft to prevent the upper back, particularly the spine area, from sinking in too deeply and the outer areas of the shoulders from being pushed upwards. The hips must be able to sink in, yet just enough for the the pelvis does not sink in too deeply making sure the arch of the lumbar spine is supported in its natural shape. Experience has shown that the 5-Zones Layer as the top layer is not recommended for back sleepers. If you prefer a soft bedding, choose the Memory- or Latex-Layer as your top layer, if you need more firmness, move the Stretch-Layer up top.
Laying on the stomach is the most unfavourable sleeping position from an orthopaedic point of view, as it has a long-term negative effect on the cervical vertebrae and neck muscles. During sleep, the head is usually positioned on its side, which greatly over-twists the neck muscles and cervical spine. This increases the risk of waking up in the morning with a stiff or painful neck. At the same time, if the mattress is too soft, the lower part of the spine may sag. Mattresses for the abdominal sleeping position should be uniformly firm from the head to the feet. We recommend a firm configuration with the Stretch-Layer at the top. To promote natural body movement, choose the latex layer as the top layer, with the stretch layer underneath.
Active sleepers sleep in a variety of positions throughout the night. They often change their lying position during sleep, often resulting in the body to not come to rest. Combination sleepers often have the feeling of waking up with every toss and turn. For the spine and the entire musculoskeletal system, the frequent sleeping movements are quite healthy and desirable. However, as soon as the quality of sleep suffers because deep sleep cycles are interrupted or not initiated at all, the mattress must become softer. As a mattress for combination sleepers, you can use the Memory-Layer as the top layer as due to its sluggish, yet elastic properties it gently absorbs movements calming-down your body. This will stabilize your body, reduce of your nightly movement to a healthy average.
Mattresses for a Dreamlike Bed Climate
In addition to lying comfort, the quality of the mattress also influences the bed climate. Proper air circulation is key for climate regulation.
Because the individual layers are not glued together, SEVEN SUNDAYS mattresses guarantee an ideal mattress climate: after each 5-7 cm layer is always a thin horizontal layer of air in the mattress. These air channels funnel warm and humid air out of the mattress. Your natural movement on the mattress creates a multi-layer "suction effect". This pumps out moist, warm air to the sides, and sucks cool air into the air channels and thus continuously ensures an optimal exchange of warm and cold air. Just heavenly.
With their unique ventilation properties, our mattresses are also ideal for people who tend to sweat a lot while sleeping.
Furthermore, all our fabrics are made of breathable material. Our cold foams have open, large pores as they are broken with large rollers right after the foaming process. This ensures first-class breathability. The Memory- and Latex-Layer are punctuated vertically to ensure effective heat circulation. The base of our mattress cover is made of 3D mesh, which promotes air exchange. So it neither gets too cold, nor too hot, nor too humid. You can enjoy a dreamlike sleeping climate in every season.
Hygienic Mattresses:
Ideal Choice for Allergy Sufferers
SEVEN SUNDAYS mattresses are unbeatable when it comes to hygiene and cleaning of the mattress. Which is why allergy sufferers love them. All fabrics are washable at 60 degrees Celsius and are even dryer proof (gentle program).
The quilted, breathable mattress cover is easily removable. You can also just easily remove and reattach the top of the cover for washing. Unique: Since the layers are not glued together, the mattress can also be vacuumed "inside" between the layers – an enormous hygiene advantage not only for allergy sufferers. To top it all, it also conducts moisture very well. A Mattress as clean and hygienic as it gets.
Our Mattresses are an Anti-Mite Fortress with Many Barriers.
The top of the mattress cover is made of polyester fibres which are thinner than silk. This makes it impossible for mites to find a grip, settle, or breed. Between the mattress cover and the layers is a thin fleece as an additional barrier. The layers of foam are surrounded by a protective, removable cover made of synthetic fibre. In the layers of natural rubber (Latex-Layer) and Bio Viscose (Memory-Layer) mites will neither be able to get a hold nor find niches to breed due to the sealed surfaces.
Mattresses for All Bed Types
SEVEN SUNDAYS mattresses are suitable for every bed, even a wooden bed, a canopy bed or a box spring bed. In other words: You don't need a luxury bed or an expensive slat frame to enjoy the highest lying comfort.
Even on a base made of pallets, all the beneficial characteristics of our mattresses remain unaltered. You can even place them directly on the floor – without having to worry about mould to breed, as the air can circulate in all three dimensions through and between the layers.
Slat Frame

Platform Bed

Box Spring Bed

Floor
Premium Mattresses:
Hand Made, Swiss Made
Not luxury, but extremely luxurious. As a premium mattress manufacturer, we produce exclusive quality mattresses that meet the highest quality standards.
Unlike other mattress manufacturers working with a high degree of standardization and automation, we craft each SEVEN SUNDAYS mattress precisely by hand. We pose a great attention to detail to each step of the process in our privately owned factory near Basel. All layers are cut to size by hand. The foam layer covers and zippers are sewn together by hand. The mattress cover is neatly sewn by hand both on the the inside and the outside. Each individual thread sticking out is cut by hand. And of course there is a final quality inspection to ensure that your custom made mattress is truly "premium". If you want, you are welcome to swing by and watch your SEVEN SUNDAYS mattress being made.
At SEVEN SUNDAYS Handcraft, Sophistication and Durability are most important.
Since we produce exclusively in our Swiss mattress manufacture, the Swiss Trade Association has awarded us the Swiss Made label. Our mattresses and pillows are therefore allowed to adorn themselves with the Swiss crossbow – the symbol for values as trustworthiness, quality, and reliability.
Best Materials for
a Bests-in-Class Mattresses
Every product is only as good as its components. For our goal of offering the best mattress, we exclusively rely on unreasonably high-quality materials, all of which are geared towards maximum sleep quality, hygiene and durability.
Over the course of 40 years, we have built and maintain personal relationship with the best foam manufacturers throughout Europe. As an independent manufacture, we have no obligations and can source the best materials anywhere, anytime. Probably the most decisive quality factor for mattresses is their volume weight. For this reason, we only process cold foams with the highest density, so that your mattress will not be worn out a few months in.
Cold foam is the most popular mattress material, as it offers many advantages – from adaptation to the body, temperature and moisture balance to hygiene. However, there are big differences in the quality of the foam, which mainly depends on its density. The higher the density, the more stable and durable a mattress is. We exclusively use at least 55 kg per cubic meters – this is an absolute top-notch value in the mattress sector.
For our Latex-Layer we only use organic rubber, which is free of chemicals. The special Talalay latex is produced in a complex foaming process. Unlike the usual Dunlop process, there are two further production steps in the Talalay latex production: shock freezing and gelling. This gives the material a unique texture for more elasticity and smoothness. With a volume weight of 85 kg per cubic meter, our latex is of top quality.
Visco-elastic foams are best known for their memory effect, which allows the mattress to adapt to body contours through body weight and body heat. Our Bio Visco-Foam has a volume weight of 55 kg per cubic meter and therefore retains its thermo-elastic properties with pressure-relieving effect even after years of use. For a gently refreshing effect and a unique feel, organic aloe vera oil is added during the manufacturing process.
For the Base-Layer in our Pure model we use Ergolattex®. This robust hybrid foam combines the material advantages of polyurethane foam and natural latex thanks to its special production technique. Open pores for high breathability and comfortable elasticity for an even weight distribution. Even though the density of polyurethane is lower compared to cold foams, the Basic-Layer with a material thickness of 14 cm is in no way inferior to cold foams in terms of durability.
For our Softness-Layer we use high-quality, odourless down feathers. Compared to conventional feathers, the down feathers, which come from the lower plumage, are particularly soft, cuddly and flexible. Our down does not come from live plucking. In order to prevent clumping and the typical "material displacement" of feathers, we add foam beads. This ingenious combination guarantees puffiness, and reliably diverts moisture and ensures a comfortable sleeping temperature.
Even our mattress covers are optimised for sleeping climate and durability – with three components: a blended fabric combining cotton with a particularly breathable polyester to reduce "pilling" and elastane for greater point elasticity. High-quality, fluffy cotton wool increases breathability and a fleece with a honeycomb structure stabilizes and promotes air circulation. Instead of the usual cross stitching we use the advantageous jumping stitching.
With cheap mattresses, the nylon threads of the zippers will tear at some point – usually during washing. The zippers that we use are also used by the Swiss Army. They are characterised by a high degree of functionality of over a million times. The teeth of the zippers are counted to match exactly to their counterpart, which makes the mattress top part of cover removable and washable without the zipper warping over time.
Mattresses by SEVEN SUNDAYS:
Outstanding in the Truest Sense
Mattress manufacturers can promise a lot. We prove our promises with certificates and awards from institutes and experts.
From product quality to ergonomics and design, we meet all the assessment criteria for mattresses. And our in-house research and development department is constantly working to improve the sleeping experience even further. Thanks to the modular design and configurable layers, you can always integrate future innovations in our sleep architecture.
OEKO-TEX STANDARD 100
The OEKO-TEX STANDARD 100 is one of the best known testing and certification system for textiles tested for harmful substances. In order to receive the certificate, all materials used in a product must meet the required conditions, test criteria and limit values, i.e. including non-textile components. Furthermore, an in-houses quality assurance is required. Our mattresses have passed the harmful substances test of the product class I (articles for babies and toddlers), for which particularly strict requirements must be met.
Certified Ergonomic Product
The Institute for Gesundheit und Ergonomie e.V. (IGR) has independently tested SEVEN SUNDAYS mattresses through their paces and officially certified all models as "ergonomic products". Special praise was given for our Stretch-Layer and its excellent suitability for regenerating the back. The IGR certificate is an excellent seal of quality in the health sector: The serious mattress test consists of a product test according to DIN standard and an extensive practical tests.
ISPO Award: Health & Fitness
With the ISPO Award, the internationally leading sports business network ISPO honors outstanding products of the sports industry in five different categories every year. An independent international 43-member jury of experts from twelve nations selects the winners from several hundred entries. The top model of the SEVEN SUNDAYS mattresses was awarded the prestigious ISPO Award 2019 in the category Health & Fitness > Medical & Physio.
German Design Award
The German Design Award is a renowned award for innovative products and projects, their manufacturers and designers. Initiated in 2012, the award is one of the most recognised design competitions worldwide and enjoys the highest reputation. The nomination process only allows products and projects to participate that have been proven to stand out through their design quality. In 2019, the modular mattresses from SEVEN SUNDAYS were among the products that received the German Design Award.
Iconic Awards: Innovative Interior
The "ICONIC AWARDS: Innovative Interior" aims to discover and reward the most noteworthy products in all areas of interior design. The awards are presented by the German Design Council. The internationally renowned award honours relevant contemporary developments and special design achievements. From more than 500 submissions in 2019, SEVEN SUNDAY's groundbreaking concept of modular mattresses, among others, convinced the top-class jury of representatives from the fields of design, trade and media.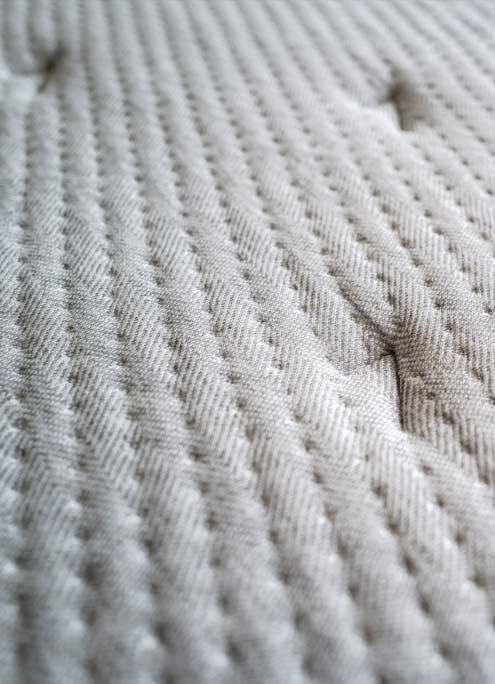 Sustainable Mattresses:
Resource-Saving and Recyclable
On average, we use at least 7 mattresses in a lifetime. Not a surprise, given the life span of ordinary mattresses is often very limited due to a lack in quality and material.
Or, often times people are dissatisfied with their generic mattresses that they get a new one prematurely. The old mattress ends up in the trash. With SEVEN SUNDAYS the mattress is transformed from a disposable product into a product for life. Because with good care, the mattress lasts up to 20 years. And if a layer has lost its stability or a new mattress cover is needed, you simply buy the individual parts instead of tossing the entire mattress. Not only does a new layer cost a fraction of the price of a new mattress, you also produce 10-20% waste instead of 100%. Renewing instead of disposing – that's what we call conscientious. Because we want to offer mattresses that are as environmentally friendly as possible.
Our low-emission mattresses are particularly resource-friendly because the components can be recycled much more effectively than other mattresses. Most standardized mattresses consist of multiple materials glued together, which most of the time makes recycling economically unviable – resulting in major shares of old mattresses being incinerated.
As we take our responsibility for the environment seriously, we are putting our emphasis on proper disposal or recycling. This also applies to your old mattress. Because mattresses do not belong in the household waste. If you decide to buy a SEVEN SUNDAYS mattress, our service partner will carry it into your bed, set it up with you and take all packaging materials as well as your old mattress back to us. We take care of the rest. And if you renew a Mattress Layer or any other part of you mattress, we always offer you a free recycling return free of charge.
Everything is Possible:
From XXL Mattresses to Custom Sizes
From the XXL mattress to mattresses in custom sizes, we are happy to fulfil the wishes of our customers.
As we manufacture each mattress individually, we can also produce special designs, e.g. a mattress made to measure in a custom size, i.e. mattresses in excess length or special dimensions for caravans and the like.
Our mattresses for heavy weight persons with optimized lying characteristics at high body weight are in great demand.
Our standard mattresses can be used without restriction by persons with a body weight of up to 120 kg. For persons who are heavier, we recommend a custom production of individual layers with foams with particularly high compression hardness.
Mattress Experiences:
How Our Customers Rate Us
At SEVEN SUNDAYS, a wrong purchase of a mattress is virtually impossible, as our modular mattresses offer countless possibilities to design the mattress according to your preferences. You want a change in lying sensation? Just reconfigure and create a new lying experience.
Our customers agree, and we would like to put them into the spotlight with a few testimonials:
Since I Switched to the Innovative Sleeping Systems From Seven Sundays, I Start My Day Almost 1.5 Hours Earlier and Got Rid of My Afternoon Naps Completely.

Bobsleighing is an extremely physically demanding sport. We spend between five and seven hours a day at the bobsled, run, or in the weight room, moving tons of weight. No surprise that at some point the intervertebral discs and the joints start to show signs. For me it is essential to be bedded as good as possible during the short rest periods in training and competition. Thanks to Seven Sundays I now have control over my nightly recovery. I sleep more effectively on my new Supreme mattress and use the my awake time much more effectively.
I Am an Absolutely Satisfied Customer.

After only one week of lying on the Seven Sundays sleeping system (lamellar layer), my severe back pain improved rapidly and I have had a very calm and deep sleep ever since. The Seven Sundays pillow also creates a wonderful lying sensation and I wouldn't want to miss either of both. I would also like to mention the smooth delivery and the great set-up service of the sleeping system. In a nutshell: l would recommend Seven Sundays and the sleeping system to any of my friends without hesitation!
My Job as Us National Coach Is super exciting, but often requires me to work late into the night.

I also spend way too much time on a plane. Without proper regeneration during my rest periods, the limits of my capacity were quickly reached, which is why I was excited about SEVEN SUNDAYS. With the mattress I can now easily regain my energy while sleeping incredibly comfortable.
SEVEN SUNDAYS Mattresses:
Good Reasons at a Glance
Are you still debating if you should finally treat yourself to the mattress for life?
Not a problem! Below, we have complied some really good reasons for SEVEN SUNDAYS. Because life is too short for bad sleep.
Best Materials

High Foam Density

High Point Elasticity

Back Health Ergonomics

Breathable Layer Technology

Healthy Sleeping Climate

Moisture Regulation

Maximum Hygiene

Zero Adhesives

Repairable Parts

Extreme Durability

10 Years Warranty

Handmade in Switzerland

Sustainable Design

White Glove Delivery

Low-Rate Financing
Mattress Buying Guide:
What You Should Know Before Buying a Mattress
"if you buy cheap, you buy twice." This also applies to mattresses if you expect high sleeping comfort and durability.
However, you should never choose mattresses because of their price tag, but because of their advantages for your sleep. So, last but not least, we would like to share the most important differences in mattress types you should take into account when buying a mattress.
Most buyers choose their mattress according to the material of the mattress core. But what is the most useful material for whom? Different types of mattresses have different properties. The most popular mattress types are:
Foam mattresses are the most common type of mattress in Europe with a market share of almost 70%. A special sub-category is the so-called cold foam mattress, which name refers to the manufacturing process without adding external heat. Due to their excellent point elasticity, cold foam mattresses offer a very good adaptation to the body contours. Due to the high elasticity, pressure points are evenly distributed and pressure-sensitive body parts are relieved.

Cold foam mattresses are very easy to care for and very durable as long as they have high density values above 50 kg/m³. The relative density of cold foam leads to a high degree of thermal insulation during sleep, which is often appreciated by people who get cold quickly. For people with a tendency to sweat at night, generic cold foam mattresses tend to be unsuitable. In order to reduce the heat accumulation in SEVEN SUNDAYS mattresses, each layer is individually embedded in a fabric cover, helping to enable constant air circulation.
Visco foam mattresses have a so-called shape memory. This means that the material has the property of adapting to the lying body, similar to a viscous liquid, and then returning to its original shape with a few seconds delay. This ability ensures perfect point elasticity while at the same time completely relieving pressure off of the body. This is why visco-foam mattresses are often used in the care sector to prevent bedsores (decubitus) in bedridden persons. This perfect adaptation to the body shape can lead to a heat development during sleep, which is why visco-foam mattresses are mostly not suitable for heat-sensitive persons.

Body heat, however, is important for the adaptability of the mattress. In order to increase the temperature sensitivity of a mattress, wax is often added into the foam production process. Typically, in bedrooms with lower temperatures, memory foam reduces natural sleeping movements as the temperature-sensitive memory foam adapts slower to any movement at low temperatures. So the sleeper is virtually being pulled back into the hollow when trying to change positions. SEVEN SUNDAYS uses a special memory foam which, due to its composition, does not react as strongly to temperature fluctuations as standard viscose foams. In addition, we punch many small holes in the otherwise closed visco-foam layer to allow air flow and heat dissipation and to avoid night sweats.
Latex is close to perfect as a material for building mattresses. In its purest form it is a 100% natural material and consisting exclusively of natural rubber. In the past decades, however, mattresses were increasingly labeled "latex mattresses", even though natural rubber was either just added in small fractions or they were entirely made of synthetic latex based on petroleum. However, if it is a latex mattress made of 100% natural rubber-based polymer, the advantages are numerous. Just like cold foam, latex has outstanding point elasticity and thus very good suspension and recovery properties, which makes the material advantageous from a medical point of view. The body is very well supported by latex. Due to its high dynamics, it allows for increased natural sleeping movements and can thus support to maintain a healthy back.

The main challenge of latex mattresses is their extremely high weight, which results from the high density of the material. A further disadvantage is its poor CO2 balance throughout the production process. Due to its significant advantages, latex is nevertheless a component of our modular mattresses. To increase the sustainability, we use a maximum of one layer of 5 cm of natural latex, which saves resources and allows easy handling.
Spring mattresses are the oldest type of mattress still in use today. Invented in the 18th century, for a long time the innerspring mattress was regarded as a civilizing achievement compared to the mattresses commonly used until then, which were filled with natural materials such as straw, wool, horsehair, reed, etc.. In fact, mattresses made of steel springs were much more durable than their predecessors. Even today, innerspring mattresses and their sub-variants, such as the pocket spring mattress, still have some advantages, which is why almost 30% of all people in Germany still decide to buy a steel spring mattress. Especially people with a tendency to sweat at night like to resort to the variants with thin padding in order to have a product that stays cool while sleeping.

Given a few severe disadvantages of spring cores, we at SEVEN SUNDAYS have decided against the use of steel springs and similar materials. In order to achieve a point elasticity comparable to foam, the use of very many individual pocket springs is necessary. This increases the weight and the manufacturing costs.
Natural movements during sleep pose an intensive strain on the material, as the springs constantly rub on the overlying cushioning. To increase durability and to avoid loss of comfort due to steel springs being felt, very thick upholstery is worked into innerspring mattresses.
Especially upholstery consisting of natural materials provide a habitat for house dust mites, which makes spring mattress completely unsuitable for allergy sufferers. With cheap or simple innerspring mattresses, many people also complain about the cracking sounds of the steel springs that can occur when moving on the mattress. To counter noises, steel springs are covered in fabrics (pocket spring cores), which, however, severely restricts air circulation inside the mattress
SEVEN SUNDAYS has combined the advantages of various types of mattresses in one product – without the disadvantages resulting from glued multi-layer mattresses. Because instead of a single mattress core, we rely on non-bonded layers that you can arrange yourself. So you buy not just one, but up to five mattresses in one.
Besides the mattress types, the hardness of a mattress is often the second important purchase criterion for mattresses. As a customer of a common mattress, you are usually forced to decide prior to a purchase if you want to sleep on a softer or a harder mattress for the next couple of years. In an effort to break down the complexity and variety of options, the mattress industry has come up with a "standard", which promises to assist you choose the right mattress for you. However, choosing a mattress based on the degree of hardness comes with serious disadvantages: The hardness scale is not officially standardized throughout the industry. So the perceived hardness varies from manufacturer to manufacturer – sometimes even throughout a same manufacturer's own product range. Since the hardness categorization is purely taking body weight into account, decisive factors like the personal preference will not be considered, most of the times resulting in all heavy people sleeping on harder mattresses, and people with a lower body weight on a softer mattress. In addition, most people are unaware of their preferred degree of hardness. Often people consider themselves to prefer lying softly, however, choose a harder mattress after testing. In addition, after about 3 weeks the human body even gets used to an uncomfortable lying sensation – even if its inadequately hard. Since, in the end the hardness scale does just not guide or help you as much as it suggests, you will not find any hardness categorizations at SEVEN SUNDAYS. And unlike all one-fits-all mattresses, which are advertised to work for any body type, our mattress system does not force you to know your hardness or softness preference upfront: depending on your sleeping habits and physical needs, you can switch between a harder and softer configurations via the arrangement of the individual layers. And, with regard to your body weight, you should bear in mind that for heavy people it is never the degree of hardness but the firmness of the mattress that is decisive. Depending on the compression hardness of the foam, which depends on its compression strength. The higher the compression strength of the foam, the quicker it returns to its original shape after a compression. For this reason, we offer heavyweight people optional layers with particularly high compression hardness. Da die Härtegrad-Skala weniger hilft, als sie vermittelt, suchst Du bei SEVEN SUNDAYS vergeblich nach Härtegrad-Angaben. Und anders als bei sogenannten One-fits-all-Matratzen, die angeblich mit einem Härtegrad für alle Personen funktionieren sollen, bist Du mit unserem Matratzensystem nicht an ein bestimmtes Liegegefühl gebunden. Je nach Schlafgewohnheit und Liegebedürfnis kannst Du über die Schicht-Anordnung munter zwischen einer härteren und weicheren Matratze hin- und herwechseln. Und hinsichtlich Deines Körpergewichts solltest Du bedenken, dass für schwere Menschen nicht der deklarierte Härtegrad, sondern die Festigkeit der Matratze entscheidend ist, die von der Stauchhärte der Schaumstoffe anhängig ist. Je höher die Stauchhärte ist, desto fester ist der Schaum und desto schneller erreicht er nach einer Belastung seine ursprüngliche Form wieder. Daher bieten wir schwergewichtigen Menschen optional Schichten mit besonders hoher Stauchhärte an.