Pillows
for a Relaxed Neck
Healthy sleeping does not end with a mattress, but with the suitable pillow: Ergonomic. Comfortable. Hygienic.
Whether side sleeper or back sleeper – the orthopaedic pillows from SEVEN SUNDAYS support you in every sleeping position.
Expert Advice here
High-Tech Neck Support Pillow:
Pillow Preventing Neck Pain
In our opinion, the best pillows are to serve your health. During sleep your body will regenerate itself, but a poor pillow will likely result in the exact opposite: you wake up with neck pain.
It is estimated that up to 80% of us suffer from neck tension or neck pain – often caused by sitting at a desk for long periods of time, heavy physical work, a lack of exercise or poor posture. Frequently staring at a smartphone with an unnaturally tilted head also puts a strain on your neck, as it adds an up to 10 times higher load on your cervical spine. Therefore, orthopedic neck pillows are becoming more and more popular. All of our neck pillow designs feature specific orthopedic properties and can help to position your head and spine in the most natural position, helping to release any muscle tension. On top, they are super hygienic, comfortable and durable.
Pillow With an Intelligent
Orthopedic Design
From a health point of view, pillows with a down or feather filling are only suitable to a very limited extend.
Which explains the rise of specialized pillows meet the requirements of different sleep types. Because the ergonomically ideal positioning of the head and cervical spine depends on the preferred sleeping position. The anatomically correct lying position is entirely different for side sleepers, stomach sleepers or back sleepers. The orthopaedically designed pillows from SEVEN SUNDAYS help you to ideally position your spine based on your sleep type – for maximum relaxation and the highest level of sleep comfort.
Side sleeper pillow: The majority of people prefer to sleep on their side. For side sleepers, there is both a risk of the pillow being too high or too low, forcing the spine into an unnatural lateral curve. When the spine is unnaturally bent, the typical tensions in the neck area come up. The required height of the pillow mainly depends on the width of your shoulders. Therefore a good pillow for side sleepers should definitely be adjustable in height. Also, it should not be too big in size so your shoulders do not lie on the pillow.
Back sleeper pillow: Sleeping on your back is generally the healthiest position for the body. Compared to the lateral position, back sleepers need less support. Nevertheless, the correct head height is also important in the supine position so that the cervical spine is not bent or overstretched. This can not only cause pain, but also promote a hunched back or a hollow back. A pillow with an orthopaedic contour cut with an indentation for the head is useful so that the spine maintains its natural S-shape.
Belly sleeper pillow: From an orthopaedic point of view, the belly position is the most unfavourable sleeping position. Especially the cervical spine is subject to lateral rotation to. Obviously, this tilting of you head to the sides can not be avoided with a special pillow either. Accordingly, abdominal sleepers need a pillow that is as flat and comparatively soft as possible – e.g. a down pillow with orthopaedic properties that remains functional in supporting the neck even if the lying position is changed during the night.
Hygienic Pillows:
Not Exclusively Important for Allergy Sufferers
Healthy sleep is also a question of hygiene. You should definitely consider this when buying a pillow.
We know that in most households, pillow care often comes short in everyday life. Even though half of all the skin scales you are losing during sleep originate from your head. In addition, you sweat most frequently around your shoulder, neck and head area. That is why we have placed our emphasis on maximizing hygienic features when designing our pillows. The covers of all SEVEN SUNDAYS pillows are washable at 60 degrees Celsius as well as dryable (gentle cycle). You can wash them every 14 days without hesitation. As for the down pillow you can even wash and dry the inner pillow – can it get any more hygienic? We also use extremely robust foams for our pillows, as acid sweat can attack the material.
No matter how well you take care of your pillow or its manufacturer: each pillow should be replaced every three to four years to ensure the optimal sleeping climate.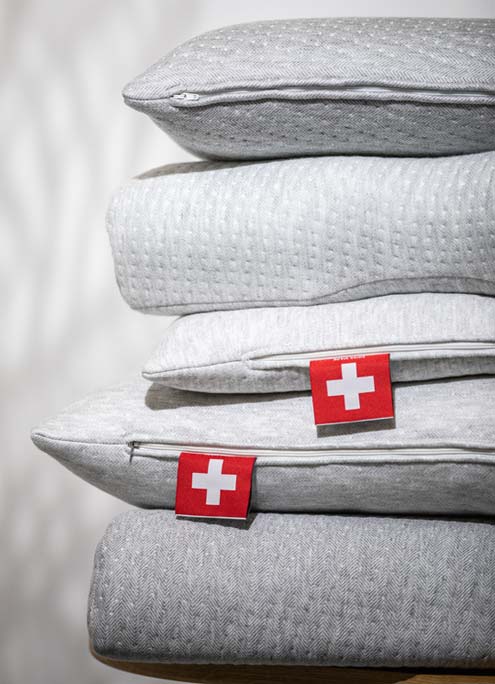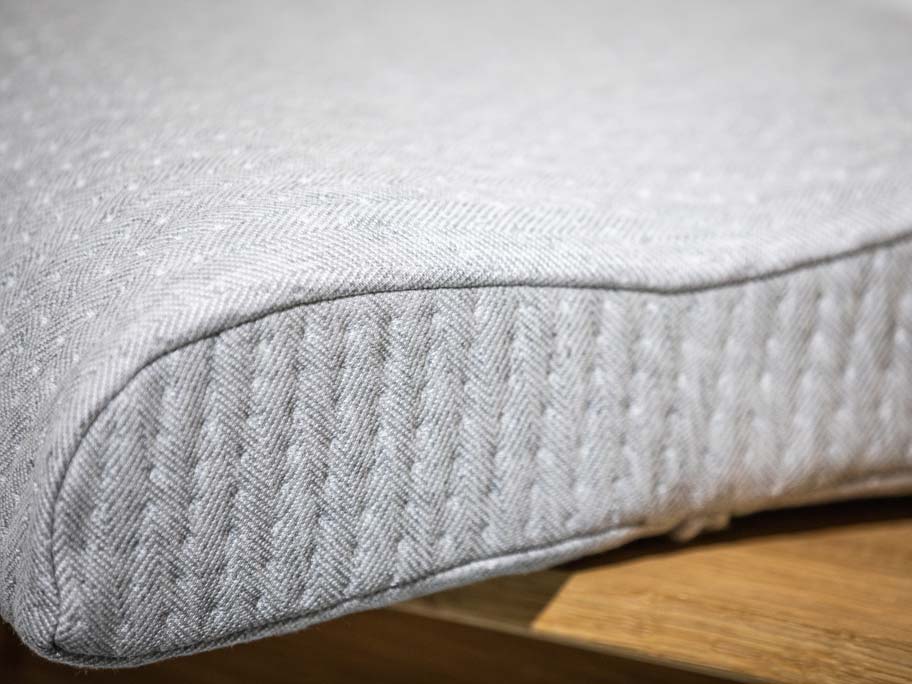 Pillow Comparison: The Best
Pillow for Your Needs
In our pillow comparison, you can quickly find the pillow that best suits you based on your very individual requirements.
Whether visco-foam pillow with a high support strength or cuddly down pillow for a soft bedding – all pillows from SEVEN SUNDAYS are recommended.
Side Sleeper Pillow
Pillow for Side Sleepers
Advantages
Ideal support for the cervical spine
Promotes a comfortable lateral position
Headrest for weightless lying
Pressure relieving memory foam
Breathable organic viscose
With natural aloe vera additive
Variable height
Velvety soft pillowcase
The side sleeper pillow with its orthopaedic contour cut, shoulder arch and headrest is specially designed to meet the ergonomic requirements of side sleepers.
Including removable layer for side sleepers with narrow shoulders.
Back Sleeper Pillow
Pillow for Back Sleepers and Stomach Sleepers
Advantages
Ideal support for the cervical spine
Optimized ergonomics
Contour for weightless lying
Pressure Relieving Memory Foam
Breathable organic viscose
With natural aloe vera additive
Variable height
Velvety soft pillowcase
The back sleeper pillow with its orthopaedic cut, neck wave and reducible height is especially adapted to the ergonomic needs of back sleepers.
The low hight variant is also ideal as a belly sleeper pillow.
Down Pillow
Pillow for all Sleeping Positions
Advantages
Ideal support for the cervical spine
Reliable in every sleeping position
Pleasant for sensitive necks
100% natural materials
Latex rods for higher support
No live plucking
Velvety soft pillowcase
Washable on the whole
The down pillow with orthopaedic head zoning is the highlight for all down pillow lovers who look for an increased head support. An amazing pillow for all sleeper types.
Highly recommended for active sleepers who often change their sleeping position.
Our Travel Pillow: The Perfect
Pillow on the Go
As a supplement to our pillows for at home we recommend our travel pillow as a reliable companion for holidays and business trips.
With our travel pillow you will enjoy the SEVEN SUNDAYS sleeping comfort any time, any place. Thanks to its compact dimensions, you can simply take it wherever you go and replace the often uncomfortable pillow in hotels. The cuddly memory foam also makes it a comfortable neck pillow for a relaxing journeys by train or plane. Our travel pillow with orthopaedic benefits is suitable for all types of sleepers. It is also an excellent pillow for children.
Pillows from SEVEN SUNDAYS:
Quality You Can Feel
There are noticeable differences in the quality of pillows.
For us as a specialized sleep manufacturer with a history of high level of technological competence thanks to decades of expertise, quality means perfection down to the very last detail: Our orthopaedic pillows combine ergonomic functionality for effective pressure relief and individual neck support with a heavenly lying sensation – and that with the highest quality of materials and workmanship. We make sure that you sleep relaxed and restful.
OEKO-TEX Pillow
Our entire range of pillows STANDARD 100 OEKO-TEX certified – the symbol for effective protection against harmful substances in textiles. This globally recognized label guarantees you a high and product safety regarding chemical substances that are hazardous to health. All components of pillows with OEKO-TEX certification are tested. Our pillows have passed the harmful substances test for products with direct and/or intensive skin contact and are therefore particularly suitable for allergy sufferers and babies.
Pillows Made of Exclusive Materials
With exclusively premium materials used, we ensure highest pillow quality. As for the pillow foam, we use exclusively organic visco-foam with a high density of 55 kg/m3, which is refined with organic aloe vera oil additive during production. The down pillow contains odourless goose down from Germany – guaranteed no live plucking. The latex sticks are made of pure natural rubber with a high density of 85 kg/m3. For the outer covers we use a high-quality functional blended fabric.
Handmade Pillow from Switzerland
Our pillows are handmade in Switzerland – with materials from the EU. Our manufacture looks back on more than 40 years of experience and has always kept its finger on the pulse of time. Our in-house research & development department develops the pillows in close cooperation with sleep experts, orthopaedists and physiotherapists. We optimize pillow shapes and materials for sleep health, because we know you will wake up more relaxed, more productive and happier if you sleep well.
Pillow Experiences:
How Our Customers Rate Us
To switch from a conventional feather pillow to a zoned pillow with several chambers or even a viscoelastic pillow often takes some time to get used to.
However, those who switch, usually quickly find that the advantages outweigh the disadvantages. This is confirmed by customers who have tested our pillows and no longer want to sleep without them.
After a Severe Blockage of My Cervical Spine (Including a Visit to the Chiropractor), I Intensively Researched Prior to Getting a New Pillow.

Had always had an 80×80 cm down pillow before. In the end, I decided to give the Seven Sundays back sleeper pillow a shot. After the first night, I was afraid to have made the wrong decision as my neck was still quite tense. HOWEVER: The absolute killer is the adjustable height feature! In the second night I took out the lower layer and reduced the height of the pillow (I am on the small body type side) and since then I wake up completely relaxed! More than satisfied!
Probably the 6th Pillow I've Given a Shot.

I am very satisfied with the down pillow from Seven Sundays. I regularly had to struggle with an "embarrassed" neck. Over the last few years I have tried these ergonomic block pillows from time to time – but I can't get the hang of them. Need feathers under the head! The down pillow is great with the head area that works! I used to wake up in the morning often and just lie on the pillowcase – today my neck is always well supported and I wake up in the morning with my neck free. I can definitely recommend it!
Been Using the Pillow for 3 Weeks and Am Satisfied.

I had measured my old pillow and ordered the exact same height (12cm). Therefore, lying comfort was as usual very good, no neck pain or tension. Right after unpacking the pillow had no unpleasant chemical smell at all – the slight whiff of organic Aloe Vera additive smells great. I feel like it might be wearing off a bit over time – maybe I'm used to it. Anyways, I could sleep on it right away. The foam is pleasantly soft and supports well. The cover has an amazing touch to it. I don't even use any extra covers on it. Delivery was fast and the packaging was fine. Thanks!
Got the Pillow for Side Sleepers Because I'VE Been Having Issues With My Neck and Shoulders for Quite Some Time.

In the beginning I wasn't exactly sure if I wouldn't miss my down pillow. But since I barely slept through the night and often got up in the morning with dizziness, I had to be open for a change. After a tip from my physiotherapist friend from Kempten, I got the ergonomic side sleeper pillow. At the beginning a bit unfamiliar because of the unusual shape. However: it works for me! I hope to keep my complaints under control or at best get it rod of them for good! So from my end: it's a buy and I can recommend the side sleeper pillow! Thanks for the great product.
I got Interested in the Back Sleeper Pillow as It Helped My Wife's Neck Pain – and She Had Tried Quite a Few

I made an appointment with a Seven Sundays expert who showed me and my wife the pillow and adjusted it. We have both been sleeping on back sleeping pillows for three months now. Neither I nor my wife wake up at night with neck pain. Insted, we get up fully relaxed in the morning! Amazing side benefit: my wife is no longer woken up by my snoring when I lie on my back. 5* stars plus …The mattress will follow soon!!! Thank you very much for this great pillow.
I Prefer to Sleep on My Stomach, but Toss and Turn a Lot at Night

I have tested many pillows but most of them were always too high and I slipped down at night, resulting in my neck not being supported at all. I am small (161 cm) and finally I have no more neck pain when I sleep on my stomach, even when I turn on my back I always lie well. I have taken out the lower part of the pillow. At first I was irritated to have to buy new covers – but I ended up using the pillow without any extra cover. It is pleasantly soft and looks really stylish. Big plus: Covers are super easy to clean (washing machine, dryer, no problem) I am happy with the pillow. Quite an eye-catcher.
I Never Write Product Reviews, but for This Pillow I Made an Exception!

With my old pillow I woke up regularly super tense in the morning. My entire shoulder and back area was totally tensed up. Since I have been using the Seven Sundays pillow, these aches have been blown away. You automatically lie down in the right position and are comfortable – even on your back! Love it!
SEVEN SUNDAYS Pillow & Mattress:
Your Dream-Team
Healthy sleeping decoded: A pillow suiting your individual sleeping habits and physical needs is your gateway to regeneration during during sleep.
However, no matter how ergonomically advanced the pillow – if your mattress is too soft, for example, the support function of the pillow will likely not be as effective. Your upper body will sink deeper than it should, which will result in your head unnaturally being bent. Our pillows and mattresses are a perfectly coordinated sleeping system and your dream team for perfect sleep. So find out more about the advantages of our mattresses for life.
See All Mattresses